Drink! for Mac OS X
Fighting kidney stones, one sip at a time.
Introduction
Drink! is a Mac application that ensures you don't dehydrate at your computer. Drink! sits unobtrusively in your status bar showing a glass that slowly empties. You can configure Drink! to pop up visual and/or audible reminders so you keep hydrating those kidneys. See the screenshots below.

Benefits of using Drink! include a satisfied, well-hydrated body, happier kidneys, and (scientifically proven!) less grumpiness.

Keywords: water reminder software, drink reminder software, drink reminders, water drink program, water alarm, drink alarm, water reminder program, water warner, dehydrate, deyhydration.

Screenshots are below.
Download
| | |
| --- | --- |
| Download the latest version of Drink! for Mac OS X 10.5, 10.6, 10.7, 10.8, 10.9, 10.10, 10.11, 10.12, 10.13, and 10.14. | Drink! [v2.1.7] |
License
You can use Drink! for free for a week. If you like it, you can buy it for US $3.99. Click on the "Checkout" button to pay with your credit card.

After payment, you will receive an email within 24 hours containing a Drink! license. You can apply the license by double-clinking the .tgclic file. If that doesn't work you can use Finder to highlight the .tgclic file, choose File → Open with ... "Drink!". Thank you!
Screenshots
Drink! displays a glass in the status bar; it empties at a configurable pace.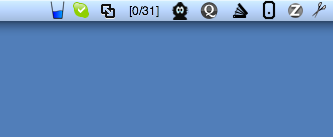 Should you wish, Drink! can pop up visual reminders periodically. When these popups appear and how they behave is very configurable: Drink! uses
Growl
for notifications. The picture below shows a popup in the top right corner of the desktop.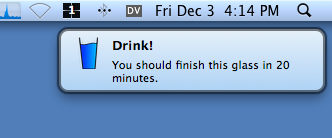 You can open the Drink! menu by clicking on the glass.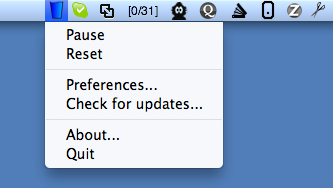 You configure how many glasses you want to drink by specifying how long it takes to drink one of them.
You can configure visual and audible reminders.