Wheels of Fortune (Bike Tour in Switzerland, July 17-20, 2002)
July 3, 2002
Dear [77 names]
Sorry for spamming you; this is not an MIT/USA story. Rather, I wrote about my bike trip from Zürich to St. Moritz in Switzerland. As with all other stories, please feel free to discard it instantly. Especially this one.
What should have been a trip from Amsterdam to St. Moritz quickly turned into a trip from Utrecht to St. Moritz. Holland is boring, so soon thereafter Utrecht turned into Maastricht. Reality struck when I realized I would never find the time to spend 10 days on the bike, spend a week with my grandmother in St. Moritz, and then also spend time with friends and family in Holland without *someone* getting upset. All the maps and books I bought for Holland, Belgium, Luxemburg, France, and the western parts of Switzerland were stowed away and started collecting dust in the living room of my house in the US.
The idea of this trip kept me going in the dark winter when fun, relaxation, and pleasure seemed remote concepts. In romantic visions I saw myself exploring the country and my own abilities on the bike, riding happily through sunny Switzerland. Reality was different. Both better and worse. This is my story.
Prelude: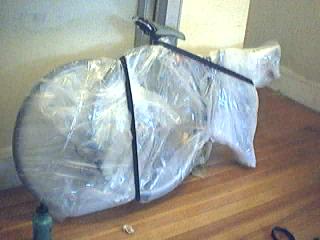 The maximum allowable luggage limit between Boston and Amsterdam is 65kg. It is 20kg between Amsterdam and Zürich. Go figure. I will spare you the logistics of getting a bike from Boston to Amsterdam---thank you Max. However, getting it from Holland to Switzerland---the two most bike-friendly countries in the world---was surprisingly hard. I cringed when I saw ``40kg'' on the scale at Schiphol. That was 20kg too much. The stewardess, a cute blonde---I had noticed her already when I was waiting in line----looked at me. I smiled back and switched to emergency flirt-mode. Not at all an easy thing to do at 8 in the morning. In the end I only paid for 4kg, not 20kg. Hey, look, I weigh only 65kg, not 100kg like some other passengers. I don't buy bottles of tax-free bullshit to take on board, I'll put some books in my backpack, and, God, you are so cute with your deep blue eyes and your sexy KLM outfit. Look in my deep blue/gray/green eyes and let me go. Usually my tactics are more subtle, but they worked surprisingly well.
Day 1:
Plan: Zürich - Innertkirchen
Reality: Zürich - Meieringen
It rained. It poured. It poured. It rained. Panicky journalists appeared on Swiss television screaming into microphones that rivers were flowing over, the ground had absorbed more than its acceptable maximum, mountains were slowly floating away, and cows and trees were swallowed by the rushing water. Switzerland was flowing over. A good day to ride my Bianchi that had been handmade in Italy, shipped to the US to be bought by me and then shipped back to Zürich. I was biking through what turned out to be the wettest day in Switzerland's recent history. I wrapped the bag under my seat and the bag on my steering wheel in big plastic bags, and stepped on the peddles. Within no time the bag on my steering wheel got depressed and slowly sank down. In pouring rain and with stiff fingers I used ropes to strap the thing back in position---gone was the carefully prepared symmetry.
I cursed Max several times that day. Max, who played a significant part in the convincing job that got me into this swimming pool. It rained, rained, and rained. This was not a drizzle; this was a vertical river slapping me around. I wrinkled everywhere. My map (wrapped under transparent plastic) fell apart within no time. Somehow, water had found its way even through water-resistant plastic. Mud was splashing up from the street into my socks and eyes. My 10 toes, though properly wrapped in wool, slowly cooled down, together with my 11 other extremities until they were so cold that they didn't hurt anymore.
After 30 minutes of misery my mood switched. Hey, I was a hero! Here I was tempering nature! Yay. Turbo Thomer speeds through pools; water splashes all around. Where asphalt turned into sand, stone, and mud I stood on my pedals balancing carefully around treacherous pools with unknown depths, my bike squeaking louder and louder as I made it jump around.
In Luzern I made my first stop. I walked into the first café that had a good-looking woman sipping coffee behind a window. Dripping from every crevice of my body, I walked in, smiled at her, and sat down with a splash that must have made everyone grab their umbrella. My order? Can I have 35 napkins and some French fries please? With mayonnaise. Yes, I'm a Swiss-German speaking Dutch, hurry up.
I drank a cup of tea, took off my shoes and emptied them in the empty teacup. Roughly the same color. The cute woman liked that. I was on a roll. My waitress wasn't amused.
The rain got much worse while I was eating my French fries. I thought it wasn't possible, but Switzerland is always full of surprises. Stunned I looked out the window, then at the woman---she smiled at me---paid, dried my seat, walked out, and biked away. It was one of the hardest things I've ever had to do. Leaving a tall, good looking, coffee-sipping woman, for, well, rain. Shivering, it took 30 minutes of biking back and forth on one street in Luzern before I could finally find the street sign that I had missed before because the rain had been so dense. I wasn't having fun; the people looking at me from their car were.
My mood switched back to bad and the worse was yet to come: the Brünigpass. 600 meters up through the woods in a fog so dense that I couldn't even see my front wheel. I rode up a nightmare of pain, cold, and exhaustion. When I reached the top after a 1,5-hour struggle, I went down. Speeding down a mountain when you're wet and cold is a bad idea, unless you're suicidal. The only source of warmth, movement, is no longer there and all that remains is wind, high speeds, and breaks that are so wet that they don't really work. I started shivering so badly that I couldn't keep my bike on the right side of the road. It was scary.
This road ended in Meieringen. Needless to say, I stopped at the first thing that had ``Hotel'' written on it. I swam inside and asked the lady behind the counter whether she had a vacancy.
``Yes.''
``Does it have a shower?''
``Yes.''
``I'll take it.''
``OK. Could you write down your name and address here?''
``Look, lady, I just had the worst day ever. Can I take a shower first?''
``Sure. Here's the key.''
So that's how I ended up in room 13 of the Alpen Sherpa Hotel in Meieringen. I threw my stuff down, tried to get my clothes off, but couldn't. My fingers were too cold. (K will remember the one other time this happened to me. It was after we had walked for 4 hours through similar conditions. After some useless fidgeting with shoelaces we decided to get into the shower with all our clothes on.) Same here. I got into the shower with everything on and almost cried. It was so good. If I had ever deserved something, it was THIS warm shower RIGHT NOW. I stood there for 30 minutes until I felt OK again. I didn't really recover until the next morning, though.
Overall, not the best day ever, but definitely a bonus on my résumé.
Day 2:
Plan: Meieringen - Laax
Reality: Meieringen - Andermatt
When I woke up it rained. I had decided the day before that I wasn't going to do that again. Worst case, I was going to sit there the whole day waiting for the rain to stop. No need to. At 11am, I was on my way under scary looking, but dry clouds. Not for too long. I was only 20 minutes on my way when I went down my first hill and noticed that my brakes were not functioning too optimally. I stopped at a gas station and checked it. My brakes were fine, but my front tire wasn't. A large bubble was bulging out. A closer look revealed three little holes in the tire that had weakened one spot so much that the tube was starting to push its way out.
A car stops. Out comes a shabby looking guy with a little book. He approaches me and points at a name. ``Aareschlucht'' it said. (Never mind that it sounds like ``Arschloch''.) The guy wanted to know where that was. I instantly noticed the Hebrew. Other than the word ``Aareschlucht'', the whole book was written in Hebrew. The look on the guy's face when I replied in Hebrew was worth a picture. Slapping me on the shoulder he demanded that his family come out of the car to look at this miracle that was translating between pretty real sounding Swiss-German (me talking to the gas-station owner) and Hebrew. They all turned religious right there and then.
Their biggest surprise, however, was me, a Jew, on a bike. Insiders know the real reason why Jewish men don't sit on those thin bike seats and why they don't wear those little pants. Circumcision takes away the one natural protection against, well, the Big Bad Biking World. In the end, I discovered the blessing of a simple tissue folded around the sensitive parts. (They must have not had bikes in the desert, or they would have thought of some other body part to cut off.) Ever had people staring at you from cars speeding by while you are folding a tissue around something in your pants? Try it. It's fun.
Anyway. I needed a new tire. I wasn't going to risk a tire exploding on me while racing down a mountain at 70 km/h, which is risky enough even without bad tires. Welcome to Switzerland, where shops close between 12pm and 2pm----lunch. Consequently, I waited for 2 hours at a bike-shop. At 3pm, I was finally on my way. It was too late to go over Grimselpass and Furkapass, so I decided to try to make it to Andermatt over the Sustenpass. 1800 meters up. Three times as much as the Brünigpass that had taken me 1,5 hours the day before.
It was on way up there that I learned that riding up a mountain pass is a religious experience, more so than fasting 25 hours and then having to sit down and stand up the whole day with a few dozen other people. The concept is simple. There's the mountain, the bike, and you. You win or you loose. 1800 meters up over 20 or so kilometers. The landscape was insanely beautiful, the ride was insanely hard, both physically and mentally, and I made it up the pass in three hours. At the summit, an Indian family applauded me and took pictures of the lunatic that had just worked his way up. Speeding down the Sustenpass was also insane. 70 km/h in a car and 70 km/h on a bike are two wholly different things. Wheeeeee!
After another 500 meters up the Schöllenenschlucht---partly walking, I couldn't do it anymore---I arrived in Andermatt.
Day 3:
Plan: Andermatt - Laax
Reality: Andermatt - Laax
Great weather.
Starting in Andermatt it goes 600 meters up the Oberalppass. I was getting the hang of it. I raced up in 45 minutes without stopping once. Sounds great, but it was probably a mistake. I must have forced my knees somewhere on the way, because since then I had problems with my knees that, in the end, even proved fatal. The rest of the trip was 40 kilometers downhill which sounds nice, but I could hardly pull it off. My knees were killing me. The finale was another 200 meters up to Laax, which consisted of nothing but pain.
In Laax I met up with my aunt and uncle that took fantastic care of me, including several crèmes for my knees.
Day 4:
Plan: Laax - St. Moritz
Reality: Laax - Tiefencastel - Mission Abort
A sad, disappointing ending on the day that should have been the climax: riding up the Albulapass into the Engadin where St. Moritz is. Soon after leaving Laax my knees disagreed. Things got dramatically worse when I had to ride through dark, smelly, uphill tunnels. You haven't seen hell until you rode a bike through a dark tunnel. Really, trust me. Flying is a joke, in comparison.
I made it to Tiefencastel, at the foot of the Albulapass. I this point I had walked 2 kilometers because I couldn't ride the bike anymore. Walking wasn't too funny either, despite of 2 painkillers.
Going up the Albulapass would have been direly unwise. I was supposed to have fun, and overall I had, especially the second day going over the Sustenpass. Going up the Albulapass in pain wouldn't have been in the spirit of the rest of the trip. The train ride to St. Moritz was beautiful. Full of envy I looked at the bikers crawling their way up the mountain.
Knees permitting, I will take the train back to Tiefencastel on Thursday for a second attempt at the finale. Otherwise, the Albulapass will stay right where it is. Ready to be mastered next year. (Update: I drove up the Albulapass 3 days later. It was fabulous.)
I made tons of photos. Soon to appear on my website.
Greetings from Switzerland.
Thomer